Florida's Native Trees, Shrubs, Wild Vines and Invasive Plants. Wildflowers and Habitats. Birds, insects, and other fauna.
Native plants are critical to wildlife
The preservation of Florida's wildlife is dependent on the preservation of its native plant species and habitats.
These plants provide food directly to the herbivores and omnivores and in turn feed everything from fish & birds to the Florida Panther.
Without native plants animals that are adapted to use these plants as food sources as well as breeding and nesting sites also disappear. The vast majority of imported plants provide nothing to support native animal life.
Plants that existed in Florida prior to the first European contact, occurring as part of the natural landscape & apart from human influence are considered as native.
Exotic & invasive exotic plants
Many exotic plants found in the wild are "naturalized". Naturalized plants are any imported plant that persists in the wild on its own without being cultivated.
There are more than 67 introduced plants in Florida that are considered invasive. These overwhelm & crowd out our native plants, causing extensive damage to all types of habitats, threatening the food supply and very survival of Florida's wildlife. Florida has a subtropical to tropical rain forest climate with mild winters and hot, humid summers that encourage rapid growth in non-native species that already have the advantage of having no natural controlling factors such as insect pests or diseases.
Below is an example of an invasive plant, the Old world climbing fern is covering everything, even the native Cypress trees are not immune.Spores from this fern are spread by animals, people and even vehicles that travel through an infested area.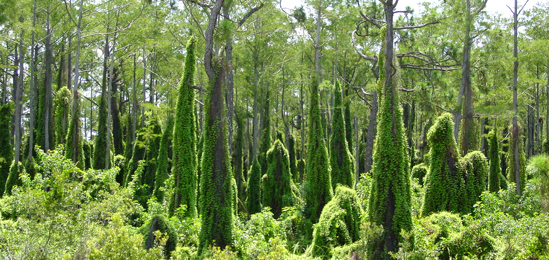 Tree, Shrub or Herb?
A tree is generally described as a single stemmed woody plant with a distinct canopy or crown & a height of 15 feet or more.
A shrub is also woody stemmed, usually with multiple stems or trunks which rarely or never exceed 13 - 15 feet. In many cases a plant can grow either as a small tree or large shrub. Southern Wax myrtle , a popular landscape plant is one example.
Herbaceous plants, or Herbs, are those smaller plants with little or no real woody growth, they may be annual, bi-annual or perennial. These can have single or multiple stems and are under 5 feet tall.
Many of Florida's wildflowers are herbaceous in form, these include vines and can be found in the wild flowering plants section of this website.
Seven major ecosystems are recognized in Florida, with as many as 82 distinct natural plant and animal communities.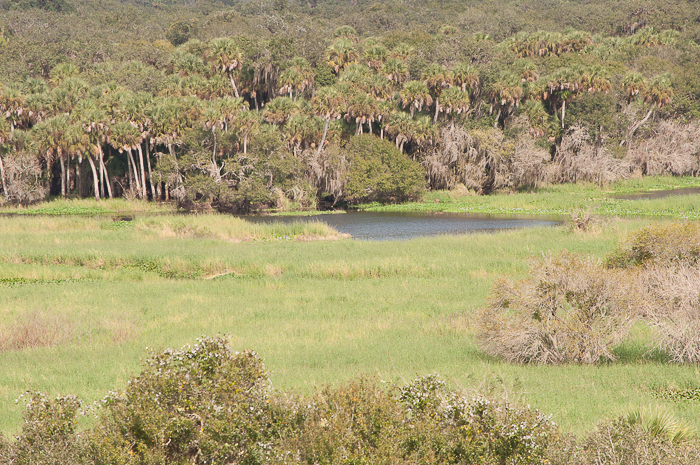 A relatively flat landscape & slight changes in elevation cause extreme changes in the type of habitat found in an area - in some places near desert-like conditions of scrub habitat occur on the boundaries of marshes.
With our great diversity of natural resources it's important that we preserve as much as possible not only for ourselves but for future generations of residents and visitors alike.
Florida's environment faces serious challenges ranging from loss of natural habitat, altered natural water flows and invasive exotic species that threaten the very things that make Florida a great place to live and visit.
Birding in Florida
500 plus species of birds either as year round residents or migratory visitors makes The Great Florida Birding and Wildlife Trail a world class self guided birding tour that covers 2000+ highway miles with 515 viewing stops and more being added!
Operated by the Florida Fish and Wildlife Service, the "trail" is divided in four sections - Panhandle, West, East, and South and connects with many sites usually known only by the locals with many nationally or globally recognized birding sites. Maps, booklets and regional guides are available online as well as in print.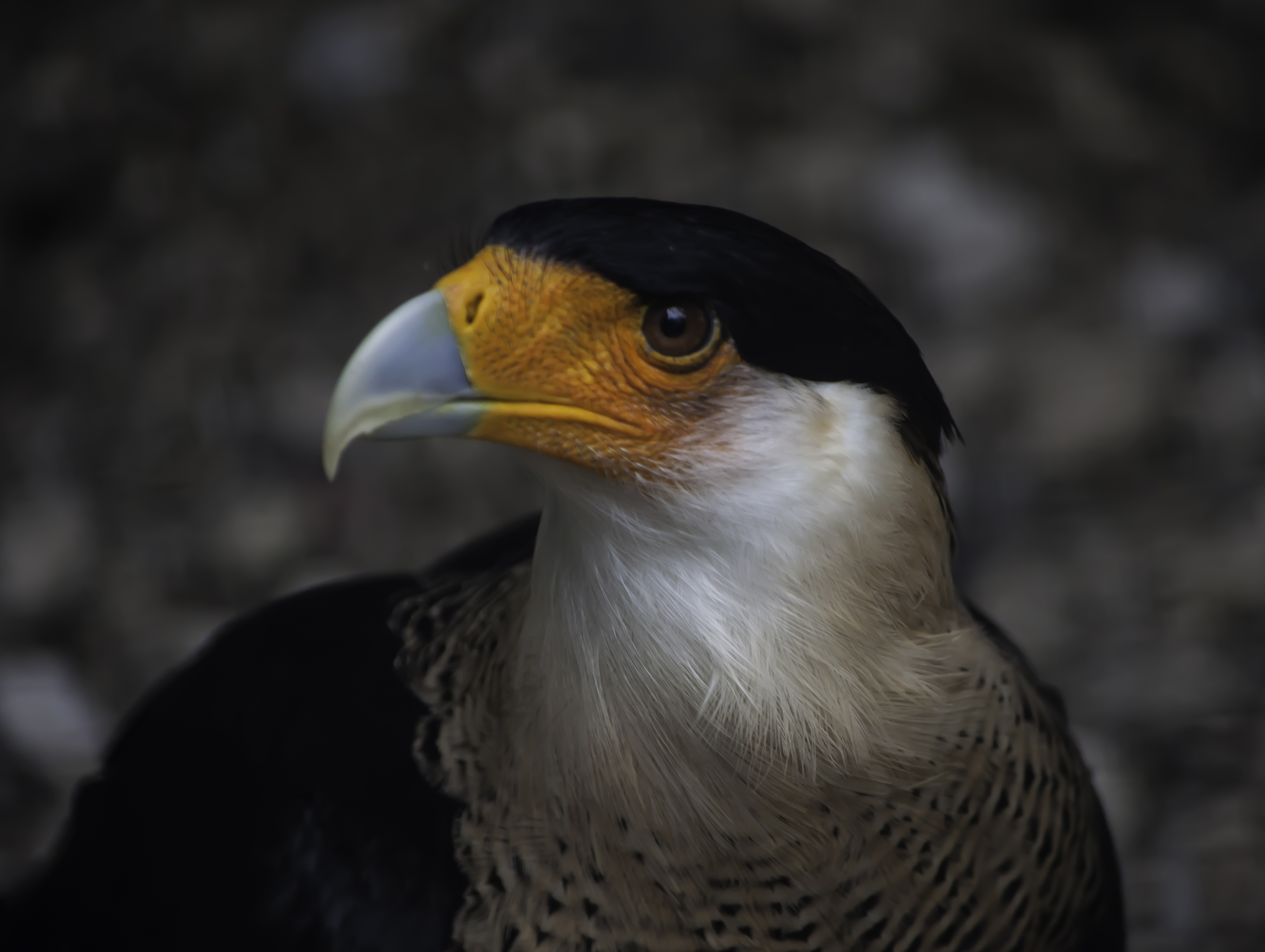 Crested Caracara
Florida offers a wide variety of outdoor activities from coast to coast. surfing, scuba diving, golf, sport fishing, birding and boating to hiking, hunting or camping, there are coutless opportunities to explore Florida's Nature!
In addition to the many theme parks are abundent campgrounds and nature preserves, both in Florida's award winning state parks as well as numerous privately owned sites are available. It's always a good idea to go online or call ahead to reserve a spot for R/V or tent camping.