Native Plants
Plants that existed in Florida prior to the first European contact, occurring as part of the natural landscape & apart from human influence are considered native.
Exotic Plants
Many exotic plants found in the wild are "naturalized", a naturalized plant is any imported plant that persists in the wild on its own without being cultivated. Some of these pose major problems for Florida's ecosystems.
Introduced exotic plants account for an additional 1,300 + species that are found in Florida's forests and wild lands. There are two classifications for exotic plants in Florida, as set forth by the Florida Exotic Pest Plant Council.
Naturalized Exotic - are non-native plants persisting in nature apart from cultivation, without displacing native species or causing damage to Florida's habitats.
Invasive Exotic- There are 67 introduced plants in Florida that are considered invasive. These displace our native plants, causing damage to all types of natural habitats and threatening the food supply of indigenous wildlife .
Florida Habitats & Ecosystems
Seven major ecosystems are recognized in Florida, with as many as 82 distinct natural plant and animal communities.
With almost 8,000 lakes, 1,700 rivers & 1,197 miles of coastline, water or the lack of it has a major influence on the type of habitat found in Florida.
In combination with a relatively flat landscape, slight changes in elevation can cause extreme changes in the type of habitat, in some places the desert-like conditions of scrub habitat occur on the boundaries of marshes.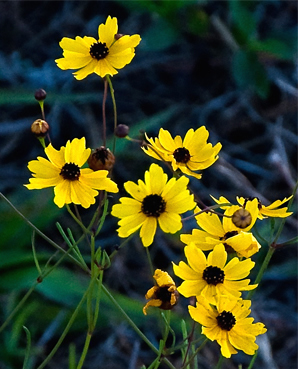 In 1991 flowers of the genus Coreopsis were designated as Florida State Wildflower, there are a dozen native species of Coreopsis in Florida.
Tree, Shrub or Herb?
A tree is generally described as a single stemmed woody plant with a distinct canopy or crown & a height of 15 feet or more.
A shrub is also woody stemmed, usually with multiple stems or trunks which rarely or never exceed 13 - 15 feet. In many cases a plant can grow either as a small tree or large shrub. Southern Wax myrtle , a popular landscape plant is one example.
Herbaceous plants, or Herbs, are those smaller plants with little or no real woody growth, they may be annual, bi-annual or perennial. These can have single or multiple stems and are under 5 feet tall.
Many of Florida's wildflowers are herbaceous in form, these include vines and can be found in the wild flowering plants section of this website.
Florida offers a wide variety of outdoor activities from coast to coast. Surfing, diving, fishing, birding and boating to hiking or camping, opportunities to explore Florida's Nature abound!
With our great diversity of natural resources it's important that we preserve as much as possible, not only for ourselves but for future generations of residents and visitors alike.
Florida's environment faces daily challenges ranging from loss of natural habitat through over-development, altered natural water flows and invasive exotic species that threaten the very things that make Florida a great place to live and visit.
Interested in learning more about ongoing conservation / preservation efforts in Florida?
Sign up for the Florida Audubon Society newsletter! It's free, gives updates on current and upcoming environmental legislation and provides an easy venue for you to make your voice heard on important environmental issues.
Sincerely,
Ed